The Southern Drift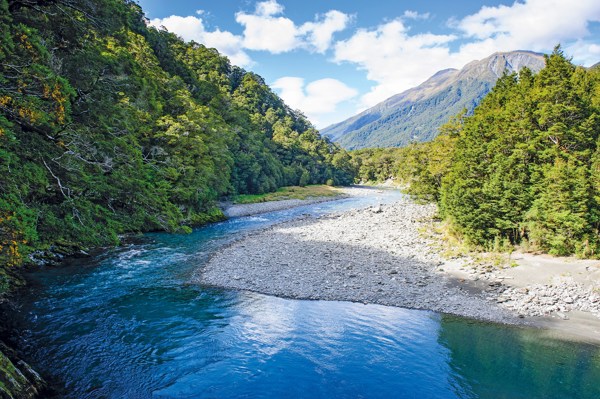 The Southern Drift
Experience the best of New Zealand on this 12-day guided tour. Journey along the Haast River in an enclosed jet boat, then travel to the picturesque mining village of Arrowhead: here, you can choose to ride a bike along the Arrow River or join a boutique wine tour. Take time to explore the charming city of Queenstown, then dine on exceptional fare at one of its most exclusive restaurants. Journey through Fiordland National Park to Milford Sound, where you'll enjoy a half-day guided walk along the famous Milford Track - the finest walk in the world. Travel to the country's most southern city, Dunedin, for dinner at Parcels Restaurant, then sample craft beers at Emerson's Brewery. Embark on an in-depth sightseeing adventure in Christchurch, and toast to your travels during a celebration dinner.
Choice Highlights
Queenstown: Take part in a scenic bike ride on the Arrow River Trail and cross the famous Kawarau suspension bridge, home of the the worlds first Bungy jump.
Queenstown: Embark on a boutique wine tasting tour in the heart of the Central Otago wine region.
Well-being
: Our customized luxury coaches are sanitized before the start of your tour and are maintained to very high standards. Physical distancing measures have been implemented on our customized luxury coaches.
: Experience enhanced hygiene protocols to align with the latest guidance following COVID-19. All Travel Directors and Drivers have completed training in enhanced well-being and hygiene protocols.
: We only work with establishments we are confident will consistently adhere to our high well-being standards, which include hotels, restaurants and sight-seeing venues.
: Hand sanitizer is freely available on board for you to use throughout the day.
Journey Highlights
Christchurch: Experience the striking natural landscape of the South Island as you travel on the TranzAlpine. Famous as one of the world's great train journeys, you can enjoy the remarkable scenery from the ice-fed Waimakariri River to the magnificent Canterbury Plains.
Hokitika: Visit the coastal town of Hokitika, where you'll find stunning scenery and a cool, arty vibe. Hear about its rich history, from the discovery of New Zealand jade through the many tales from the gold rush in the 1860s.
Franz Josef: Experience the mighty natural wonder of the Franz Josef Glacier and what the ice age must have felt like. The sheer enormity of these giant ice puzzles will leave you spellbound as you explore the area with your Local Expert.
Makarora: Visit Makarora, a great base point to explore the beauty of the Southern Alps. Your Travelling Concierge will take you on an orientation of the town where you can admire remarkable scenery and hear more about its history.
Haast River: Enjoy the unique blend of thrilling speed and calm comfort on a Haast River jet boat safari. Zip past untouched forests and snow-capped mountains in your fully enclosed cabin while you hear beguiling tales of the wilderness communities of the valley.
Queenstown: Take part in a scenic bike ride on the Arrow River Trail and cross the famous Kawarau suspension bridge, home of the the worlds first Bungy jump.
Fiordland National Park: Embark on a serene cruise on Lake Manapouri where you can marvel at plummeting waterfalls and see countless coves and beaches dotted along its shore. See the magnificent scenery of the Fiordland National Park with its forest-clad mountains and islands.
Milford Sound: Immerse yourself in nature with a guided walk along a stunning section of Milford Track, one of the most breathtaking walks in the world. Learn about its wildlife and heritage while you traverse beach forest and bubbling rivers as you pass along its route.
Dunedin: Sample some of Dunedin's best local brews on a tour and tasting session at Emerson's brewery. Witness each stage of the process as you're guided behind the scenes from malt room to bottling at this award-winning microbrewery.
Christchurch: Explore the dynamic city of Christchurch and learn how the city has reinvented itself in the past decade. See how the unique Cardboard Cathedral and Container Mall juxtapose with the older landmarks of Canterbury Museum and New Regent Street.
Exceptional Dining
Queenstown: Embark on a boutique wine tasting tour in the heart of the Central Otago wine region.
Dunedin: Step into Parcels Restaurant at the Distinction Dunedin and taste their exquisite modern twist on traditional local dishes. Sip delicious wines as you look across to the First Church of Otago from the old post office building which houses the hotel.
Christchurch: Say farewell to Christchurch with a final Celebration Dinner at 50 Bistro, an award-winning restaurant serving modern New Zealand cuisine. Let your tastebuds be delighted with a delicious meal and raise a glass to the health of your companions and your unforgettable journey.
Dining Summary: 11 Breakfast (B), 7 Dinner (D), and 2 Lunch (L)
Additional Included Highlights
Personal radio headsets give you the freedom to wander during visits to famous highlights, without missing any of your Local Expert's fascinating commentary, available on departures with 15 or more guests.
At every hotel, you'll be treated to seamless baggage handling, with prompt delivery inside your room.
Hotel and restaurant tips are included - you'll never have to worry about how much to give, nor search for foreign currency. We also include all taxes and porterage charges at hotels.
Stay connected with friends and family with our complimentary coach and hotel Wi-Fi (where available).
Complimentary, private airport transfers are included on start and end dates and when additional accommodation has been booked through L...
The beauty and spirit of the world's most exciting places will come alive when you travel with Luxury Gold. Luxury Gold endeavors to elevate travel beyond the ordinary, bringing you the best escorted experience for the best value. See the places you have dreamed of visiting in a way that indulges your senses and opens your mind to an astonishing tour of wonder, adventure and new learning.
A world of immersive tours awaits you, each with VIP experiences, exceptional dining, elegant hotel
...
Airfare not included, Various departures