Thailand and the Temples of Angkor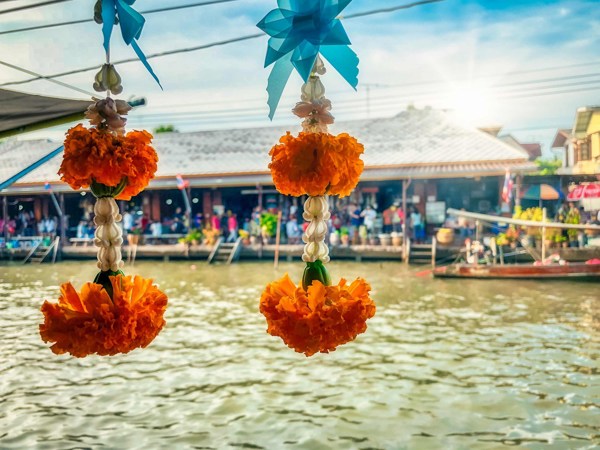 Thailand And The Temples Of Angkor
The heritage of two ancient kingdoms are traced along this pilgrimage through Thailand and Cambodia. Visit the spiritual centre of Sukhothai and explore the ruins of Angkor Wat.
Dining Summary
1 Welcome Reception (WR)
14 Breakfast (B)
7 Lunch (L)
2 Dinner (D)
1 Regional Dinner (RD)
1 Be My Guest (BMG)
2 Farewell Dinner (FD)
Be My Guest
Chiang Mai: Join the Saiwangjit family who live in a wooden Thai stilt house for a traditional northern Thai-style meal.
Dive Into Culture
Bangkok: Visit Lumpini Park in Bangkok and join the locals in their daily T'ai Chi practice.
Bangkok: Enjoy a traditional Thai massage in the grounds of Wat Pho, a centre for traditional Thai massage.
Bangkok: Learn the secrets of Thai cooking and visit a local market to buy fresh ingredients.
: Stop at a coconut palm sugar plantation and discover how the farmer extracts the sap from the palm trees to be turned into sugar.
Siem Reap: At Peak Sneng Village observe the locals weaving hats from palm leaves or folding Lotus flowers into delicate works of art.
Iconic Experience
Bangkok: Begin your city tour by visiting Bangkok's Grand Palace, home to the most sacred Buddhist temple in Thailand, Wat Phra Kaew. Continue your exploration of the city and its renowned landmarks.
Bangkok: Embark on an Express River Cruise on the Chao Praya River and admire the beautiful Temple of the Dawn along the way.
Damnoen Saduak Floating Market: Visit the famous floating market at Damnoen Saduak and paddle along the canals laden with fresh produce to sell.
Kanchanaburi: Discover the "Death Railway" when you visit Hellfire Pass and learn about the horrible conditions of which the prisoners of WWII had to endure when building this landmark.
Kanchanaburi: Bask in the views of the Kwai River as you make your way across wooden viaducts on your scenic train ride.
Phra Nakhon Si Ayutthaya: Delve into the rich trading history of the UNESCO-listed Ayutthaya as you embark on your city tour.
Sukhothai: Visit Sukhothai Historical Park and choose to explore the park by bicycle or tram tour.
Sukhothai: Spend some time with a local family and learn the art of amulet making and how these jewels protect the owner from harm.
Chiang Mai: Spend the evening enjoying a walk through the vibrant Sunday market of Chiang Mai with your Travel Director.
Chiang Mai: See the vibrant paper umbrellas that are famously crafted in the San Kamphaeng District before meeting the children and teachers at a local school.
Wat Suan Dok: Visit Wat Suan Dok Temple, marvel at the golden details and meet a local monk.
Wat Phrathat Doi Suthep: Visit Wat Doi Suthep, which is one of Thailand's most sacred temples and listen closely for the chanting of the monks.
Angkor Wat: Join your Local Specialist and immerse yourself in the stories of the celestial nymphs and mystical serpents.
Angkor Wat: Discover the Banteay Srei Temple, also known as the "Citadel of Women" where you can admire delicate 10th-century carvings.
Wat Damnak: Experience a private blessing with a Monk where a sacred thread is tied around your wrists to protect you against evil spirits.
Angkor Thom: Enjoy a visit to Angor Thom and admire the iconic sites of the Terrace of Elephants, the Royal Enclosure and the Temple of Bayon.
MAKE TRAVEL MATTER®
Natonchan: Visit the village of Natonchan and the`Friends of the Asian Elephants', a Thai registered foundation looking after the welfare of elephants throughout Thailand.
Natonchan: On a visit to Natonchan we interact with the locals and meet one of the villagers to learn about traditional crafts such as gymnastic doll making and creating textiles in an array of patterns which are then soaked in mud to protect them from fading.
Siem Reap: Visit Artisans d'Angkor, where our visit contributes to creating job opportunities for disadvantaged rural youths and at Peak Sneng village, meeting local villagers and discovering some traditional Cambodian crafts.
Must-see Highlights
: Explore Bangkok and Chiang Mai
: Visit the Grand Palace, the temples of Wat Phra Kaew and Wat Pho in Bangkok, Damnoen Saduak floating market, the ancient city of Ayutthaya, Sukhothai Heritage, Siem Reap Old Town, the temples of Angkor Wat, Banteay Srei, Wat Damnak, Angkor Thom, Ta Prohm and Peak Sneng Village Park
Trafalgar Difference
Chiang Mai: Relax at your charming hotel with its exotic Lanna-Burmese style architecture, perfectly positioned near the Pratu Suan Dok Gate in Chiang Mai's Old Town.
Whats Included
: Flight from Bangkok to Sukhothai and Chiang Mai to Siem Reap.
: An expert Travel Director and professional Driver
: Cherry-picked hotels, all tried and trusted
: All porterage and restaurant gratuities
: All hotel tips, charges and local taxes
: Breakfast daily and up to half of your evening meals
: Must-see sightseeing and surprise extras
: Audio headsets for flexible sightseeing
: Luxury air-conditioned coach with Wi-Fi in most countries or alternative transportation (such as rail journeys)
: Optional Experiences and free time
Whats Included
Flight from Bangkok to Sukhothai and Chiang Mai to Siem Reap.
An expert Travel Director and professional Driver
Cherry-picked hotels, all tried and trusted
All porterage and restaurant gratuities
All hotel tips, charges and local taxes
Breakfast daily and up to half of your evening meals
Must-see sightseeing and surprise extras
Audio headsets for flexible sight...
Tour Differently isn't just what we promise, it's what we deliver.
Dream holidays without the stress of the 'what ifs', is what we do. We design our tours so you can experience the world differently. You'll get the personal service, attention to detail and ease you're looking for, while enjoying the unmissable experiences you've always dreamed of. Discover why Trafalgar tours have been trusted by 5 million guests and are proud to deliver the very best tours that you'll cherish for ye
...